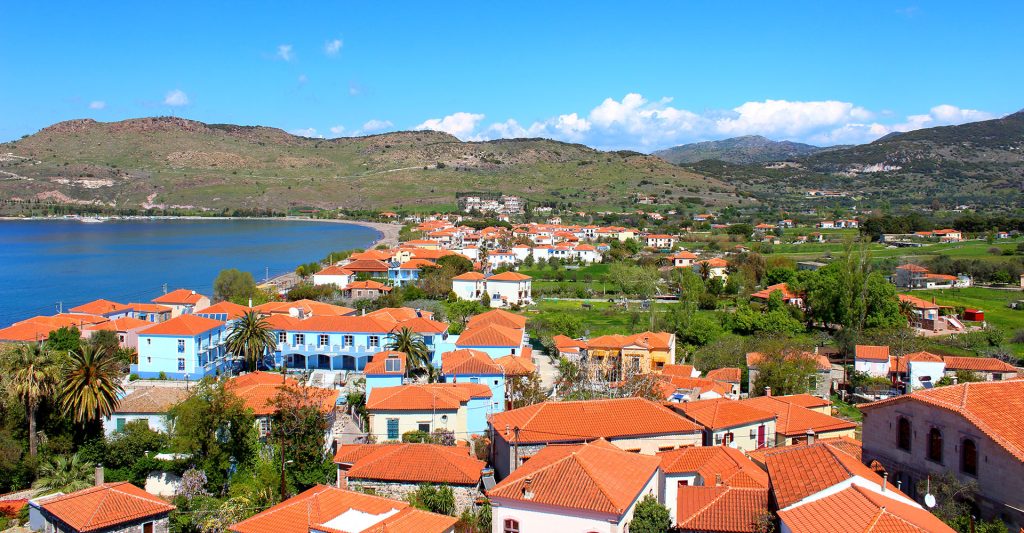 Petra is sprawling behind its broad, sand covered beach and seafront square with a core of old stone houses, many with Levantine-style balconies overhanging the streets.
The traditional houses make for an intimate feeling while you are walking on the cobbled streets that go through the village and open on to shady squares and wider streets of well-preserved neo-Classical mansions set in large gardens – all overflowing with the summer scents of jasmine and bourganvillia.
The little shopping streets open out on to the lively main square on the seafront where, in summer, you can enjoy breakfast in the morning sun or spend warm evenings in the pavement cafes and tavernas.
The olive groves and forests with pines, the fruit-bearing trees, the oak-trees and cypress-trees that surround Petra, with the seaside summer holiday settlements and crystal clear waters, combine the exceptional natural beauties with the charm of the modern. The village is enjoying a growing popularity with tourists – many returning every year – so there are modern amenities available as well as well-stocked shops. Nightlife centres along the coast road and the village square which boasts a superb view of the sunset over the sea.
Emerging from the village, on a 40 meter high cliff, there is Petra's main attraction, a church dedicated to Panagia Glykophilousa. With 114 stairs to climb in order to reach it, the church is known for its picturesqueness and breathtaking views.
The breathtaking landscape of Lesvos rolls through regions of pine-covered mountains to areas of barren, yet dramatic volcanic stone.
There are numerous sand and pebble beaches along the spectacular indented coastline. The temperate climate, inland rivers and natural springs all contribute to maintain the surprisingly lush vegetation of the island. A wealth of opportunities allows every visitor to pursue particular interests from sporting and adventure activities to cultural and leisure attractions.
The mild Mediterranean climate, warm hospitality and friendliness of the locals make your holidays to Lesvos island an unforgettable experience.
This island of astounding natural beauty is set like a jewel in the Aegean Sea. Lesvos is world renowned for it's many varied species of flora and fauna. It is also host to a superb petrified forest located between Eressos and Sigri in the Southwest. This is a land steeped in tradition and rich in history and culture.
The birthplace of musicians, poets, writers and artists who have been inspiring through time and still in present day, by the natural charm and picturesque views allowing endless opportunity for exploration and discovery.